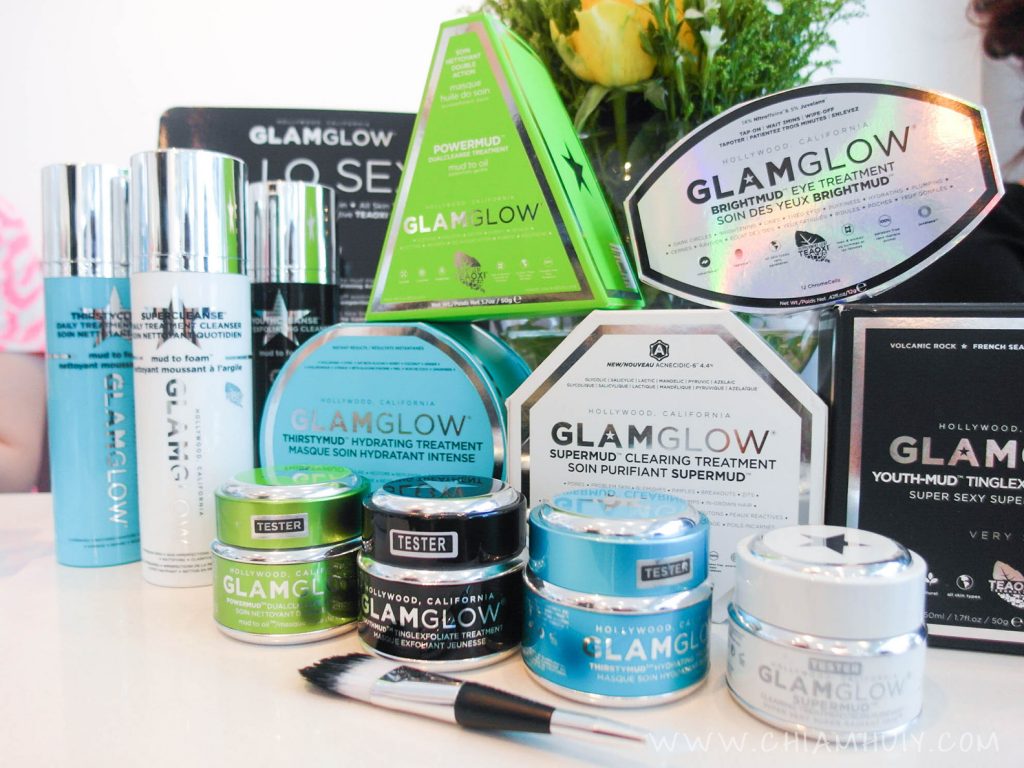 GlamGlow is a world famous cosmetic brand, which is present on fashion shows, professional photo shoots or on the sets of the greatest film productions. Stars love GlamGlow face masks for its swift rejuvenating and soft skin effect.
What is the secret of GlamGlow?
Base ingredient of all GlamGlow masks is cleansing clay from south regions of France, that makes this cosmetic treatment, hidden in a small jar, worth its price. Each mask is based on different exclusive formula.
No. 1 GlamGlow Mud Mask
This luxuries mask in a black jar, which is supposed to have complex influence on face skin is Tingling & Exfoliating Mud Mask. The secret of this mask are three ingredients, which were developed in a way so they would moisturise, nourish and smoother skin.  Mud Mask contains: TEAOXI (an innovative ingredient stimulating collagen synthesis with anti-ageing properties), French clay (base ingredient protecting against pollution) and volcanic rock (exfoliates epidermis, smoothers and softens skin).
No. 2 GlamGlow Brightening Treatment Flashmud
Brightening Treatment Flashmud face mask has an orange jar and was created for swift and long lasting effect of highlight and even skin tone. This product is a complex of vegetable extracts WhiteEnergy (wild rose, lily, birch, jasmine, peony and white tea), highlighting ingredients Flashlucent (microspheres of quartz, lactic acid from sugar cane, refined pumice, salicylic acid from willow and kaolin) and Reflectum ensuring diamond photoluminescence.
No. 3 GlamGlow Thirstymud Hydrating Treatment
GlamGlow Thirstymud is a nourishing mask with moisturising, smothering, nourishing and regenerating properties. Cream-gel texture of GlamGlow Thirstymud Hydrating Treatment combines within 4 advanced technologies: Dewdration, HydraPack, GreenEnergy and TEAOXI. Hyaluronic acid moisturises, clay helps retain water in skin and coconut oil and orange blossom provide deep nourishment.
No.4 GlamGlow Super-Mud Clearing Treatment
One of more popular GlamGlow face masks in white jar is a deeply cleansing mask, that resolves most popular skin problems: wide pores, discolourations, pimples, blackheads and irritations. GlamGlow Super-Mud Clearing Treatment is a mask with complex antibacterial, matt and exfoliating properties.
No. 5 GlamGlow PowerMud
Last of the exclusive masks is GlamGlow PowerMud Dual Cleanse Treatment, which combines beneficial properties of oils and mud. GlamGlow PowerMud is a deeply cleansing treatment with innovative ingredients rich in technologies like: OILIXER, CLAYTOX, PUREIFIER and TEAOXI, which leave skin cleansed and fresh.