This year's spring surprises us with many new cosmetics designed for skin care. MIXA is one of these brands that is going to launch a few novelties this season. Just for the record, MIXA is a French brand that has been producing cosmetics for over 90 years. Since the very beginning, the brand has been designing products which are a combination of cosmetics and medications. MIXA's products are expected to help sensitive skin owners taking care of their body and face. Has MIXA introduced any changes into their formulas?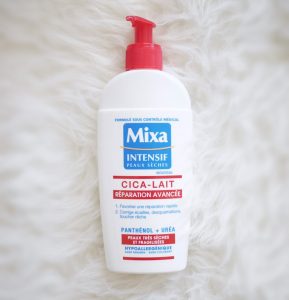 Soon enough we will be able to buy MIXA Intense series designed for problematic skin with tendency to dehydration and inflammations. MIXA's main aim is to create such cosmetics that have to be not only effective but also minimalize the risk of allergy reactions. Therefore all MIXA Intensive products are:
designed under medical supervision,
tested dermatologically,
tested on super sensitive skin,
based on formula that minimalizes risk of allergic reactions,
composed of precisely selected ingredients,
do not contain parabens, alcohols or artificial colourants.
MIXA offers cosmetics that have universal formula, which works caring and is suitable for both mature and young skin. The producer claims that even newborns can be treated with MIXA cosmetics. Actually, MIXA Intense offer a large collection of care cosmetics, which are divided into a few categories:
Cleansing – effortless purity:
cleansing lotions,
face toners,
maceral lotions,
dual-phase lotions.
Face care – effective treatment:
moisturizing creams,
redness eliminating creams,
anti-ageing creams.
Body care – soothing & regeneration:
caring body milks,
hand and super dry spots healing creams.
Child collection – bath & care:
shampoos,
washing gels,
toilet body milks,
maceral waters,
moisturizing creams,
diaper creams.
This wide range of MIXA Intensive cosmetics is the answer to the growing demand on care products. The most often bought products are lotions, make-up removing lotions for sensitive skin, CC+ cream for redness, lipid body balm and shampoo for babies and kids of maceral formula, which in fact is often willingly purchased by adults as well.