Onset of Spring is connected to necessity of change in everyday skin conditioning. It is particularly important to take care of appearance and health of feet, which after long winter in heavy boots can just not be ready for light shoes. Let us introduce Lime Sherbet for Feet with lactic acid and urea – Apis Fresh Lime terApis.
APIS Natural Cosmetics is a line of products dedicated for wellness and SPA or for treatment at home. Cosmetics in this line have characteristic formula of active ingredients for professional skin care and everyday conditioning.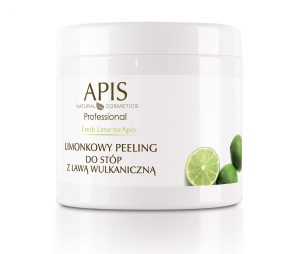 Fresh Lime terAPIS is a line based on lime extract. One of novelties from the brand is Soothing Lime Sherbet for Feet with lactic acid and urea. It is dedicated mostly for dry, rough and callous skin and is perfect complementation of everyday skin care of feet before Spring season.
Soothing Lime Sherbet for Feet Fresh Lime terAPIS has quite light and gentle formula of intensively moisturising balm. Besides moisture, sherbet provides softening of callous skin, smoother of rough feet, calm of irritations and relax. Effects of use sherbet for feet with lime extract is supposed to be noticeable after first use.
APIS Natural Cosmetics is rich in natural ingredients, which support skin and ensure it with vitality. Soothing Lime Sherbet for Feet contains mostly natural lime extract and intensively moisturising urea. Formula was enriched with lactic acid, linen extract and mimosa extract. This complex of natural ingredients is expected to bring positive results.
Though, we connote sherbet mostly with ice creams, APIS Soothing Lime Sherbet for Feet is effective feet balm. It is used just like any other creams – on cleansed skin apply small amount of Fresh Lime terAPIS and rub it in till skin absorbs all active ingredients.