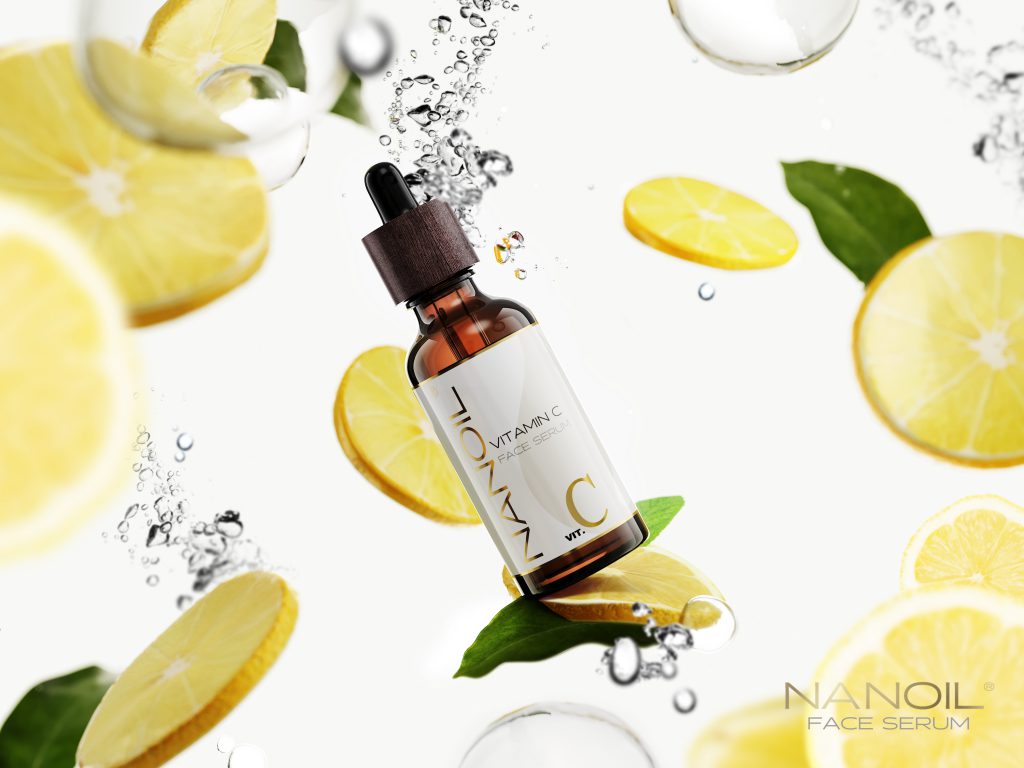 What does it mean that vitamin C is stable? In plain language, it means that this type of nutrient is efficacious, that it doesn't oxidize before being absorbed by the skin. This also means that such vitamin repairs skin from within, stimulating collagen production and leaving you with luminous complexion.
If you're dreaming of a clear and flawless skin, we know a product that will help you achieve this beauty goal – a face serum formulated with the stable form of vitamin C. And this is no other product but Nanoil Vitamin C Face Serum.
What makes face serum better than a cream?
Why introducing a face serum to your daily skin ritual makes a great idea? Back then, face serum was reserved for mature and ageing skin, but nowadays, when it has become clear that even young skin is constantly exposed to aggressors like smog, urban pollution, free radicals, stress, the face serum appears to be a perfect product to deal with all typical skin concerns triggered by those external factors. Why should you consider face serum your skin's new friend? Take a look:
Face serum delivers stronger effects than regular face cream.
A modern face serum doesn't create any oily feel on skin but penetrates deeply to nourish it.
Only face serum is proven to have an actual regenerative effect on skin.
One drop of a face serum contains even a few dozen more nutrients than can be found in the same portion of a face cream.
There is no other skincare product that would have so many benefits for skin and answer a few skin needs at the same time.
The good stuff you can find in Nanoil vitamin C face serum
Firstly, this is a lightweight, non-greasy skincare product that uses water as the base ingredient. Secondly, it penetrates skin quickly without leaving any oily feel behind. Thirdly, its list of ingredients is short, and the great majority of the constituents aim at amplifying the effects created by vitamin C, as well as helping skin repair itself quicker.
As mentioned earlier, Nanoil Vitamin C Face Serum is formulated with the stable form of vitamin C, so you can be sure that this product penetrates skin deeply to repair, improve the appearance and increase resilience. Stable form of vitamin C equals quick and stunning effects.
One of the ingredients actively supporting vitamin C is an extract taken from punarnava root. Its additional effects include collagen synthesis, as well as protection from free radicals and oxidative stress, both leading to accelerated ageing of skin. Similarly to vitamin C, punarnava root extract is a potent antioxidant, able to even complexion.
Which skin types is vitamin C serum dedicated for?
✓ discolored skin
✓ dull, tired-looking and shine-deprived skin
✓ mature and ageing skin
✓ acne and redness-prone skin
Benefits of using Nanoil vitamin C face serum
The product replenishes skin with water and nutrients.
It evens complexion and erases discoloration.
Nanoil serum improves the general appearance and resilience of skin.
It leaves skin glowing.
The serum provides sun protection.
It fights off wrinkles.

Where can you buy Nanoil vitamin C serum?
That is simple! Visit nanoil.us and choose Nanoil Vitamin C Face Serum from the wide beauty product offer. Select fast home delivery and enjoy clear and luminous skin!
Don't wait! Help your skin become youthful and glowing with Nanoil!
How much does vitamin C serum cost?
You probably think that you must pay an arm and a leg for a product that offers this highly effective and innovative stable form of vitamin C. Not at all! This serum is budget-friendly, especially if you compare its size to other vitamin C serums.