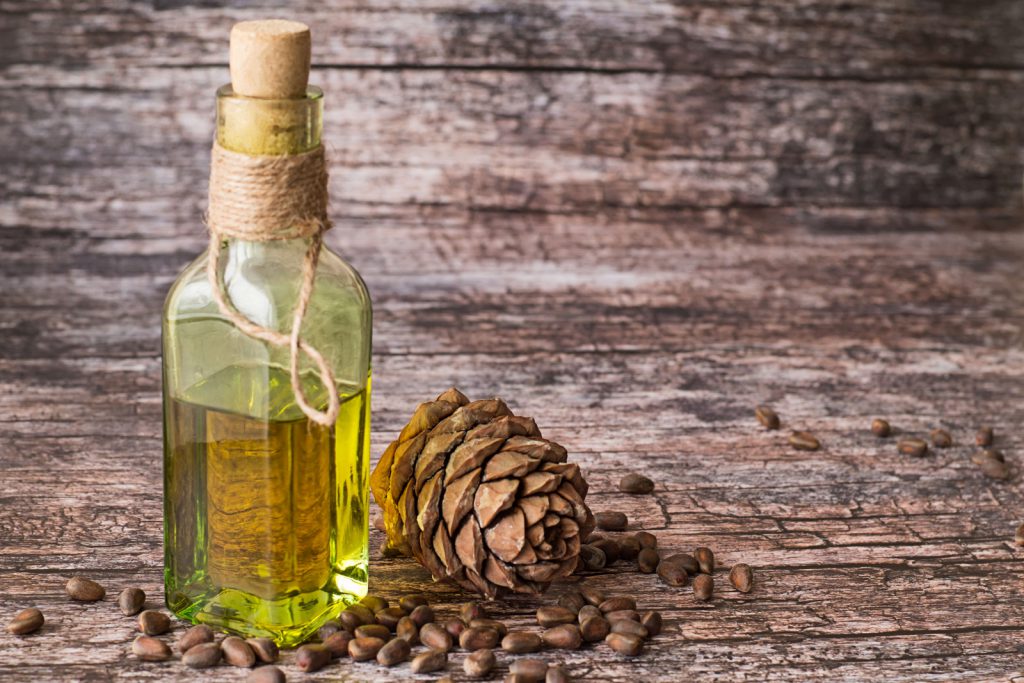 No other oil has ever been examined so thoroughly in terms of health properties. It turns out that their number is indefinite, and its appearance in a given cosmetic immediately conquers its cosmetic qualities and adds many unique properties. Cedar oil is exceptional: until now, no one is able to create its synthetic replacement. How does this irreplaceable, powerful oil from distant tundra enhance beauty?
INCI Cedar Oil: Cedrus Atlantica Oil
Cedar oil "measures high" – it is accustomed to big things, because the trees from which it comes, reach impressive heights (up to 40 meters high and 2 meters in diameter). They grow in the pure regions of the world and will be able to do great things – both in the field of health and cosmetics.
Cedar oil – composition 
high concentration of protein
polyunsaturated fatty acids
vitamins: B, E and D
a range of antioxidants
Cedar oil – cosmetic properties 
Cedar oil has a wide variety of use in the cosmetic field. It can be used for all dry parts of the body, especially for dry skin of the hands, as well as for the face in order to slow down the ageing process. Cedar oil is able to regulate the level of sebum both on the scalp and on the face and other parts of the body. It is often used for skin care in the winter. Just apply it to your face in the evening, and in the morning, rinse your skin with lukewarm water or wipe with a toner. Thanks to this, the skin will not dry out, on the contrary, it will become elastic, smooth and properly moisturized.
How does cedar oil work for hair? [effects]
Cedar oil inhibits hair loss, combats baldness in men, helps to grow facial hair, promotes beard care and disinfects the skin after shaving. Cedar oil improves hair structure without weighing it down. It is ideal for oily skin, it enhances hair's shine, facilitates combing and fights dandruff. It will also be perfect for everyone who is struggling with hair loss. The cedar oil gives increases hair volume. It is suitable for oiling weak hair, whose structures have been damaged and need repair in both external and internal layers.
How to use cedar oil in hair care? 
It is best to combine it with other natural oils and apply to the hair and scalp in the form of a mask, which needs to be washed off after a minimum of 30 minutes. Another way is to combine cedar oil with whipped egg yolk (its pure form is very concentrated, therefore it is better not to apply it to the hair or skin on its own).
Cedar oil – reviews 
It is said that cedar oil is a remedy for oily hair. Moreover, it is the best cure for dandruff or acne.